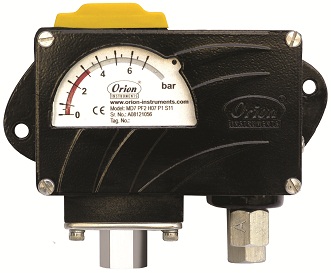 Information
MD Aire Relay switches have been designed for zone 0 applications that require robust, in adverse conditions. By using appropriate capsules and pneumatic valve, MD series air relay switches can used for hazardous applications.
Applications
Power Generation
Burners and Furnaces
Glass and Metal Industries
Chemical Industries
Steel Industry
Hydraulic, Steam and GasTurbines
Boilers & Compressors
Machine tools
Railway braking systems
Water treatment
Sugar and Paper Mills
Fire protection
Surgical gas, Breweries, Milk industries
Tyre Industry
Natural Gas, LPG storage and transportation
Product Specifications
Storage temperature : Atmospheric temperature
Media Temp.:- for rubber diaphragms 80 degree C max., higher with metal diaphragms
Can be offered for higher temperatures with other capsule combinations
Setpoint repeatability : ± 2 % of FSR
Enclosure : Die cast aluminium to IP 66
Process connection : 1⁄4 "BSP standard.
Product Features
Robust
Wide Scale for easier setpoint (optional)
Enclosure Protection : IP 66 Standard
Customised arrangements for switching values on request
Field adjustable
Accuracy: +/- 2% FSR
Warranty : 2 Years
Support +91-(0) 20-24393577
Opening Time 09-00 AM to 5-30 PM