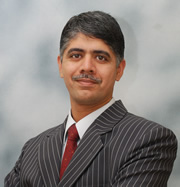 Mr.R.A. Moholkar
CEO
Kaustubha Udyog
Mr. R. A. Moholkar is a Mechanical Engineer and a post graduate in Finance. He has worked in Tata Motors as a part of his Engineering course in various departments. He has also worked on a few assignments in Forbes Marshall as a Management Trainee.

Having joined Kaustubha Udyog, he has been instrumental in designing and introducing pressure switches, pressure difference switches and vacuum switches for a cross section of industry right from boilers, compressors to a few demanding applications in the nuclear industry. During the course of his career, he has worked across functions at several levels, and now heads Kaustubha Udyog.

Under the stewardship of R. A. Moholkar, Kaustubha Udyog has set it's sight to establish it's presence globally, across a variety of industry sectors including Oil & Gas, Petrochemicals, Infrastructure, to name a few, where pressure switches find application.