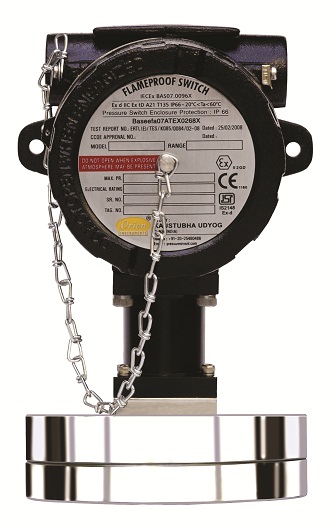 Information
FC pressure switches have been designed for use in areas which are potentially explosive. These can be used, by selecting an appropriate construction, for gas groups IIA, IIB and IIC. They can also be used in underground mines by selecting Grey CI flameproof heads.
Typical attributes are as follows.
Application
Oil & Gas
Petrochemical
Refineries
Mines
Bulk Drug & Pharma
Chemical Industries
Product Specifications
Storage Temp. : Atmospheric temperature
Operating ambient Temp. : 0ºC to 60ºC
Media Temp.:- for non-metallic diaphragms 80ºC max., higher with metal diaphragms
Set point repeatability : +/- 1% over full range
Enclosure details : Al grade LM6 / Grey Cast Iron / Stainless Steel Casing & Cover
Enclosure Specifications :

II 2 GD Ex d IIC Gb Ex tb IIIC Db T85°C (-20°C < Ta < +60°C) IP66
Protection : IP66 Standard
Complies to :

IS/IEC 60079 - 1: 2007
EN 60079-0:2009, EN 60079-1: 2007 and EN 60079-31: 2009.
Grey CI enclosure for mines (Group I applications)

Switch output 1 SPDT (2 SPDT on request).
Product Features
Compact, rugged Design
Enclosure protection : IP66 Standard
Reliable, accurate micro switches used
Customised Micro switch arrangement can be provided, on request
Easy, safe wiring connections
High/low pressure options available
Accuracy* : +/- 1% FSR / +/- 2 % FSR
Warranty 2 Years
*Accuracy changes with switch configuration
Support +91-(0) 20-24393577
Opening Time 09-00 AM to 5-30 PM